Designed to reflect the various aspects of the current transitional experience, the 7th Athens Biennale ECLIPSE aspires to address the viewers' imagination of potential parallel worlds and futures. ECLIPSE activates a cross-cultural conversation among artistic voices that have historically been pushed to the periphery and orchestrates an experiential shift in art viewing.
In ECLIPSE, narratives from contemporary Black, queer, speculative, and radical artistic voices converse with practices of rituals, worldmaking, and interdependence. ECLIPSE presents a translocal chapter of contemporary thought that champions a revisiting of identities and a queering of history. By counter-offering radical care, virtual, and fluid alternative states through sonic and immersive strategies, ECLIPSE aims to summon transformative powers to usher us beyond the current era into a space of thought and reflection.
AB7: ECLIPSE is curated by the Berlin-based collective Omsk Social Club and the Ghanaian-American curator Larry Ossei-Mensah, under the artistic direction of the Athens-based artist and curator Poka-Yio. From September 24 to November 28, 2021, ECLIPSE presents works by more than 80 artists from North and South America, the Caribbean, Africa and Europe:
manuel arturo abreu, Zebedee Armstrong, as they lay w/ Abdu Ali + Markele Cullins*, Sanford Biggers, Billy Bultheel*, Judy Chicago, Contemporary And, Zuzanna Czebatul, Simon Denny, DETACH (Voltnoi & Quetempo)*, Alexandros Douras, Christoph Draeger, Claude Eigan, Awol Erizku, Doreen Garner, Miles Greenberg, Happy New Tears*, HellFun (Josefin Arnell & Max Göran)*, Jack Hogan & Trakal*, Deborah Joyce Holman & Yara Dulac Gisler*, Klára Hosnedlová*, Satch Hoyt, Hypercomf*, Yinka Ilori*, Astrit Ismaili*, Tomashi Jackson, Huntrezz Janos*, Olalekan Jeyifous*, Evi Kalogiropoulou, Samson Kambalu, Lito Kattou*, KAYA (Kerstin Braetsch & Debo Eilers), Navine G. Khan-Dossos*, Nuri Koerfer, Ndayé Kouagou*, Aristeidis Lappas, Kris Lemsalu & Kyp Malone*, Marissa Malik & Yeshe Bahamon-Beesley*, Rodney McMillian, Steve McQueen, Ana Mendieta, Moor Mother*, Petros Moris, Zanele Muholi, Nascent*, Kayode Ojo, Omsk Social Club*, Zohra Opoku, Vasilis Papageorgiou*, Nektarios Pappas*, Ebony G. Patterson, Primitive Art*, Yorgos Prinos, Kameelah Janan Rasheed, Andrew Roberts, Victoria Santa Cruz, Jacolby Satterwhite, Jonas Schoeneberg*, Erica Scourti, Paul Mpagi Sepuya, Jakob Kudsk Steensen, Juana Subercaseaux, Valinia Svoronou*, Taka Taka*, Ayesha Tan-Jones*, Filippos Telesto, The Critics Company, the Mycological Twist*, Hank Willis Thomas, Iris Touliatou*, Tourmaline, Suzanne Treister, Theo Triantafyllidis, Wu Tsang, Eugenia Vereli, Cajsa von Zeipel*, Julian Weber, YESSi PERSE*.
*An asterisk denotes a new production or premiere.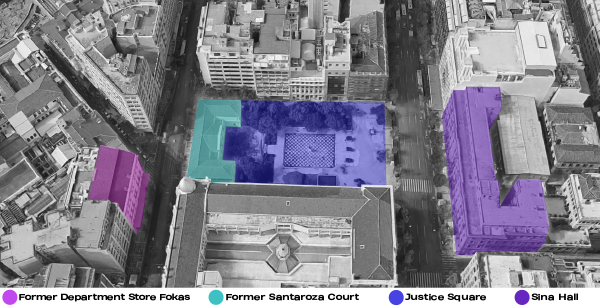 The artists participating in ECLIPSE inhabit a cluster of three neighbouring landmark venues in the historic centre of Athens: the Former Department Store Fokas, the Former Santaroza Courthouse in Justice Square, and Schleimann-Mela Hall. These closely knit emblematic ghost buildings portray various aspects and different eras of the Athenian urban landscape and its historic and cultural narratives. The Former Department Store Fokas, the main venue of ECLIPSE, acts as a symbol of the bankruptcy of contemporary Greece and a possible post-capitalist era; its eight, formerly buzzing floors and still full of evidence of their commercial use, have been abandoned since 2013. The Former Santaroza Courthouse in Justice Square opposite of Fokas is a classical building raised soon after the birth of the modern Greek Republic. It has served as the first state print house and then as a courthouse that tried, amongst others, the famous communist and Resistance partisan Nikos Beloyannis. Its stripped-bare shell has been sealed and muted for thirty years. Opposite to it rises the ghostly Schleimann-Mela Hall, an eclectic neo-baroque building, one of the oldest and largest buildings of Athens that was converted into offices and gradually got abandoned during the last fifteen years.
Online accreditation for press and art professionals is open here.
Professional Preview: 23 September 2021
Opening Days, including a diverse programme of events: 24 – 26 September 2021
Exhibition Duration: 24 September – 28 November 2021
Venues
Former Department Store Fokas, 41 Stadiou Str.
Former Santaroza Courthouse, 48 Stadiou & Arsaki Str.
Justice Square, Arsaki & Panepistimiou Str.
Schleimann-Mela Hall, 46 Panepistimiou Str.
Main image: Jack Hogan & Trakal shooting for their new project Under the covers, the waves! (2021), commissioned and produced for the Athens Biennale. Courtesy of the artists.